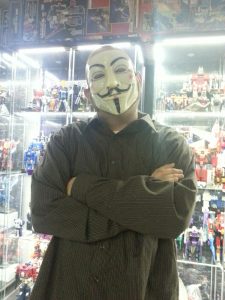 Welcome to my humble sales page. I've been collecting, selling, and trading toys since 2006. I've been an active member on TFW2005, ToyArk, and HissTank for years & have literally made hundreds of transactions on these sites. I figured that this would be an easier way to organize the things that I have for sale, rather than trying to maintain multiple sales threads on several sights. While my current focus is on Generation 1 Transformers, I also have an affinity for just about any 3 3/4" scaled toy line. Most of the figures I will have listed on here will be Transformers, but don't be surprised if things like G.I. Joe, Marvel, or Microman figures show up for sale here also.
If you wish to know a little more about me feel free to check out my blog at PlastiqueFreak.com, or my featured interview on TFSource.
As things are sold the listings will be removed, so if a listing is still active, it is still available. While I prefer to deal privately, I am more than willing to list items on eBay with a pre-arranged "Buy It Now" price, but please be aware that the added eBay fees will also increase the price of the item. Please read the FAQs for Buying, Payment, & Shipping details (located in the top menu bar).
If you feel that you can find a better price, or just want to see what the going rate for a figure is, please feel free to utilize the eBay search bar in the sidebar; you'll find that my prices are generally lower than anything on eBay. I do my best to describe everything as accurately as possible, but if you have any questions please feel free to contact me; I am more than willing to take more detailed pictures and/or answer any questions you may have.
My feedback can be found in any of the following locations:
eBay , TFW2005.com , Facebook Feedback, HissTank.com , and ToyArk.com